Paul Spinks takes his experience as a paramedic and trauma counsellor and spins it into gold, delivering mental health and leadership presentations to mine sites and workplaces across the country.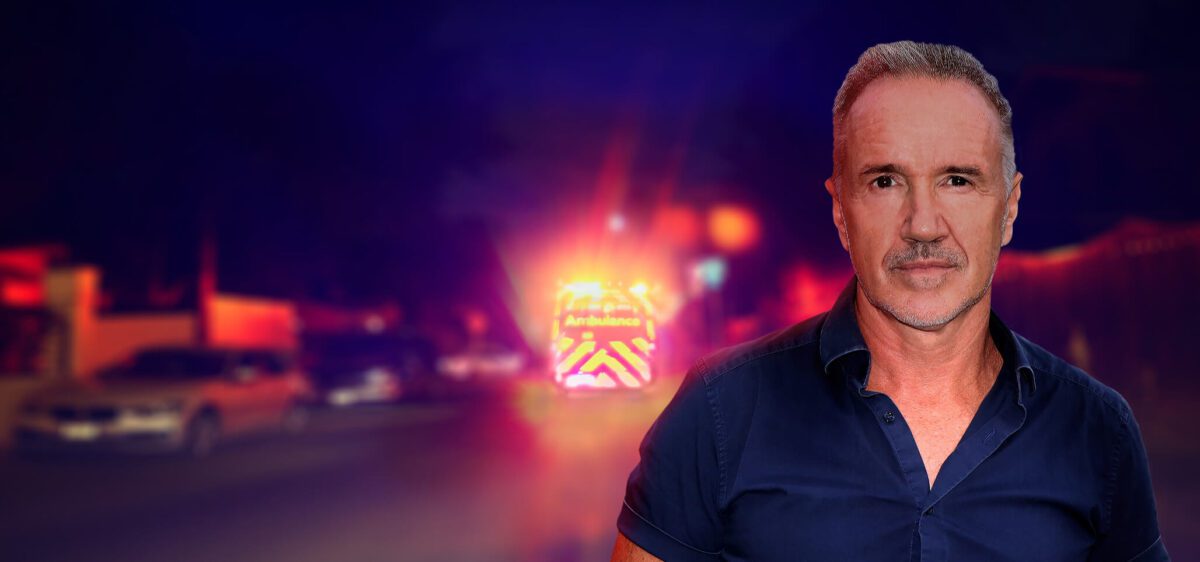 Veteran paramedic and trauma counsellor Paul Spinks has seen a lot in his professional life, and he's able to use those experiences as a means to contextualise people's struggles.
"I got a call out to a motorbike accident where a young bloke had been killed," he said.
"I was on-site with the family, who were all out riding their motorbikes together. It was a really tough day at the office."
"The boy's father told me that he got up his young bloke for dyeing his hair green only days before. 'It didn't f@#*ing matter, did it?' the father told me at the scene.
"So I always ask people: what's your green hair story? What are you worried about right now that doesn't really matter?"
Spinks has had a 20-year career as a paramedic in metropolitan and regional Australia. When he spoke with Safe to Work, Spinks called in from far north Queensland, where he works remotely in the ambulance service as a single paramedic officer response with a catchment area of around 300km.
"Working remote has been a fascinating part of my career," he said. "You're dealing with cattle stations, grey nomads coming to grief on the highway, and taipan bites in the middle of nowhere."
And in between all that, Spinks manages to find the time to deliver mental health presentations and workshops all across the country through his business, The Wake-Up Call.
Spinks has delivered countless presentations to mining industry organisations in the last 15 years, since the time he first presented an early form of his content to the Australian Mining Association in Tasmania.
Since then, he's said his piece to all of the biggest names in the industry, including across multiple Glencore sites.
"Organisations will typically reach out and book me whenever they've had a recent accident, or an explosion in mental health, or a suicide on-site," Spinks said.
"But more often I'm seeing organisations start to be really proactive about mental health, that will hunt down people like myself every six months or so and put the troops in front of somebody to keep a watch over their mental health and wellbeing."
Spinks is not your run-of-the-mill corporate speaker. He describes his presentations as 'no BS' and cutting straight to the core.
"These textbook university discussions about wellness and glass-half-full kind of stuff, it just loses people pretty quickly," Spinks said.
"It's real-life experiences – the audience knowing you've actually been there inside their lounge rooms at their time of crisis and the learning outcomes that are derived from those experiences – that's what people want.
"And crisis does not mean just responding to accidents – ambulance attends to broken people in all forms. Most of the people I have saved in my career is in the coaching of my words and wisdom shared, not from a toolkit full of drugs where we treat the symptom but never the cause.
"My presentations aren't meant to just make you feel good in the moment. That'll wash off a week later. The main aim is to create a way for people to see the problem coming long before it arrives and get in early.
"So many people are on remote control, just getting up each morning and doing what they do. Kiss the wife or husband and kids, go to work, run around like a mad thing for 12 hours, come home, eat, shower, stare aimlessly into somebody else's life on social media, fall to sleep, and do it over again.
"And if you're running on remote control, you're running high levels of cortisol, so your stress levels are up, immunity down. You've got chemical changes happening in your head and slowly but surely managing your health into oblivion. Unchecked repetition is where the cracks set in.
"So you've got to slow down and you've got to have a look inside and instead of asking a colleague or a friend if they're okay, first ask if you're okay. The world is full of people trying to help others who can't help themselves.
"Try and catch yourself thinking for the next month. Get a sticky note pad and write the letters CYT – catch yourself thinking – and place one on the dashboard of the car, another on your computer and another on the back of the toilet, and find out where your predominant thoughts lie.
"If they are in the gutter or always worrying, Houston, we have a problem."
The Wake-Up Call challenges people to check themselves, and gives them the tools they need to get serious about mental health.
"Self-awareness is key. Once you know who you are and what's going on in your head all day then you can start to look for some of the strategies we can apply to try and stop the rot, so to speak," Spinks said.
"I give my audience something to go home and apply today to address their own mental health. I give them the tools to do something right now."
Spinks also offers workshops, building on the fundamental knowledge gained in the presentation and taking things one step further.
Workshopping affords more time and interaction, allowing his audience members to roll up their sleeves and get their hands dirty.
The Wake-Up Call has met with particular success in the mining industry, where long hours, remote locations, and fly-in, fly-out work can take a toll on people's mental and physical health.
And according to those who have experienced his presentations, including major miner Glencore, it is Spinks' realness, compassion and thick catalogue of stories that helps him cut through to miners and this cohort of people so easily.
"We reached out to renowned speaker Paul Spinks to support the health and wellbeing of our Oaky Creek Coal (OCC) employees and of the entire Tieri community in Queensland," Oaky Creek general manager Damien Wynn told Safe to Work
"Paul presented to every crew on site, as well as a community session for the people of Tieri.
"The beauty of these presentations is that they aren't just applicable to the mining industry. They help to create a network of empathy and resilience, strengthening not only our mines but also our local communities."
Spinks addressed Glencore's OCC employees over a course of 90-minute talks held in an open-air venue.
With the fans going full blast in the searing March heat of the Bowen Basin, it was no simple task to keep the attention of 150 miners, but Paul managed it with ease.
"The presentations were well received by all," Glencore said. "Paul shared some confronting but valuable stories from his paramedic work to reinforce the seriousness of lifestyle and mental health issues.
"There was a lot of feedback about the impact of drugs and the discussion around relationships and attempting not to get upset about things that don't really matter."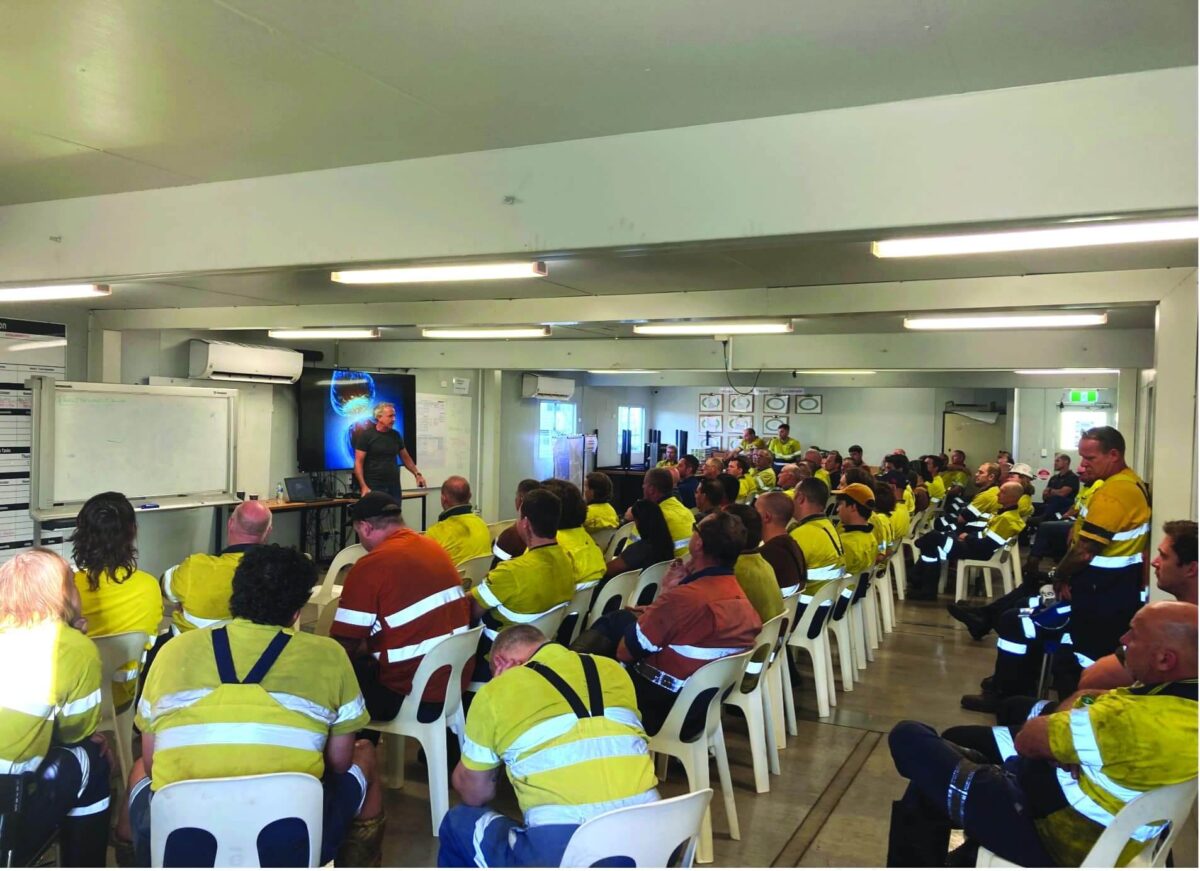 And The Wake-Up Call isn't just aimed at employees.
Many of the Spinks' lessons on leadership and mental health resound all the way up to the executive level.
"So what's in it for the employer to take mental and physical health seriously?" Spinks said.
"A happy workforce, a huge return in productivity, and you as a boss feeling good around your troops.
"It's one thing to be a boss, but it's quite rewarding to go home at night and know that you played a big role in helping your people become better versions of themselves."
Spinks has touched the lives of countless people through his work in and out of the ambulance. He recounted the time a man wrote to him from a mine site.
"He told me he'd planned to kill himself that week and was getting all his affairs in order," Spinks said. "For whatever reason, he came into work the day I was presenting, and he told me it saved him."
These types of interactions are definitely not isolated occurrences for Spinks.
"I get a lot of that: turning people around when they're trapped in black holes," he said.
"I can help them because I've been in people's black holes thousands of times and face-to-face with people negotiating crisis and trauma for 20 years. No university in the land could have ever taught me that skill set.
"Life lessons come in many forms but have never been told like this. Most inspirational messages wash off after a few days, this one will last a lifetime."
This feature appears in the July – August 2023 issue of Safe to Work and on the Safe to Work website.